2015
We co-founded the International Gender Champions (IGC) in our first month as Women at the Table, with its baseline panel parity pledge. We were somewhat influenced by two panels held the month before, one on 'The future of women in technology' with 11 male Ministers discussing this future, and another at a prestigious organization that had 5 older white males opining on the 'The Future & Global Crisis in the 21st century'. Where were women and any other groups in the conversation?
We ran the International Gender Champions Secretariat from 2015-2019, growing this gender network of diverse decision-makers to include every head of an International Organization, including the UN Secretary General, and also building hubs in Geneva, New York, Vienna, Nairobi, The Hague and Paris. In Geneva it is now unacceptable to have an all male (and to a certain extent all female) panel. We need diverse voices on diverse subjects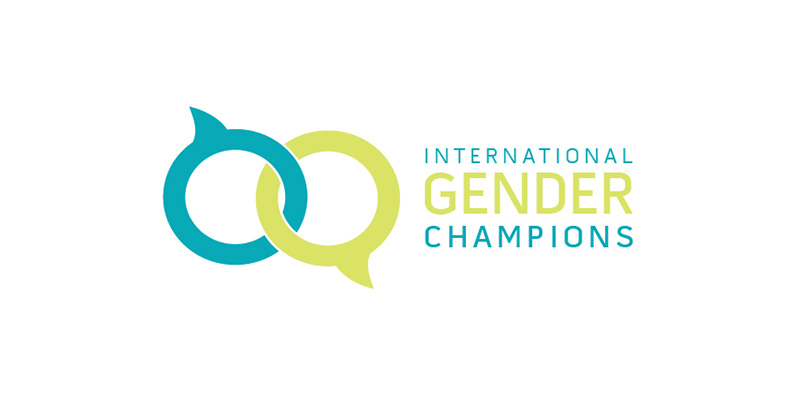 IGC Impact Groups are formed. The first, an IGC Impact Group on Health, sets its sights on the upcoming election for Director-General of the World Health Organization and asks all the candidates for a position on a gender lens at the WHO. This is the first time a public discussion is held on the subject with all the candidates, and helps embed the under investigated issue of gender in WHO's ongoing work.
The second IGC Impact Group is on Trade. As the Secretariat we convene the skeptical yet visionary Executive Director of the International Trade Centre, Arancha Gonzalez, (who goes on to become Foreign Minister of Spain), and equally brilliant Ambassadors from Sierra Leone and Finland.  We make a work plan focussed on the World Trade Organization (WTO)'s Ministerial Conference (MC11) to be held the next year  in December 2017.
2017
The IGC Trade Impact group drafts a Declaration on Women's Economic Empowerment, hoping that maybe 12 nations will sign on, as the word 'woman' has NEVER been used  in any official GATT or WTO documents. Gender and women are, to put it lightly, considered a non-issue as officially trade is 'by definition gender-neutral'. (Or so we were told.)
Long story short, in December in Buenos Aires, 123 Ministers scramble (largely due to the indefatigable work of Arancha Gonzalez) to be in the photo of the Declaration launch, which is soon adopted officially by the WTO and now called the Buenos Aires Declaration on Trade and Women's Economic Empowerment. The Declaration is largely cited as the cascading document from which fundamental and ongoing research  from the WTO, to the OECD, and many others emanate.  Women and trade now sits firmly on the global agenda.
IGC opens a hub in New York when one of Geneva's first five male Gender Champions, the former UN High Commissioner of Human Rights, Antonio Guterres, becomes UN Secretary General. The Secretary General invites us to New York, and gives the Keynote at our launch at UN HQ.    Vienna opens its IGC Hub.
We convene  Breakthrough Barriers Summit, in March with The Wilson Center's Women in Public Service Project at the Graduate Institute of Geneva bringing together an international group of women leaders from the three branches of government: legislators, the judiciary and the executive. Margot Wallström, Minister Foreign Affairs, Deputy Prime Minister, Sweden gives the kick off address at WIPO. 
We assemble a first working lunch to discuss AI & Gender with the Women's Rights Division of the Office of the High Commissioner of Human Rights (OHCHR) and Professors from EPFL, University of Geneva, and ETH Zurich.  We are shocked that 21 OHCHR lawyers arrive from all divisions.
We remember the moment when a Mathematics Professor exclaims, "Thank God I have none of these issues in math!  Our math is neutral!" A Computer Science Professor shoots back, " But Professor, who picks the x and who picks the y?  Who picks the 3 in your equation?  Anytime there is an equation there is a human hand in its construction. And that hand has a point of view. This could also be called human bias.
2018
Threading together our increasing work on algorithms and their connection to 'Smart Cities' we summoned an international group of feminist activists and scholars from India, Kenya, Malaysia, Brazil, Guatemala, the Netherlands, and the UK with International Organizations  based in Geneva, for a conference that explores the meaning of a Smart Feminist City. It is an extraordinary conference and discussion that also had its share of international intrigue and drama, when our indigenous activist from the Sao Paulo parliament has her headdress confiscated ( and eventually returned) at Swiss Customs 'in violation of the CITES' ( Convention on International Trade in Endangered Species of Wild Fauna and Flora).
IGC opens hubs in Nairobi and The Hague where all officers of the International Criminal Court (as well as Ambassadors and Civil Society) become International Gender Champions. Later on, IGC is selected as one of the first projects of the first Paris Peace Forum.
2019
An IGC Paris Hub is formed. President Macron attends the launch.
We hold the first  <AI & Gender> Workshop at EPFL with the collaboration of the  Office of OHCHR), EPFL Digital Humanities Lab, EPFL Equalities Office
We begin our work on the g-app with a Human Centered-Design Workshop Ideating the g-app with teams from International Union for the Conservation of Nature (IUCN), Inter-parliamentary Union (IPU), World Meteorological Organization (WMO), World Intellectual Property Organization (WIPO), UN AIDS, UN Women 
Through Elisa Celis, one of the Professors at the first AI & Gender convening, we are invited to give a Keynote at Women in Data Science Zürich. In preparation, we pen our Declaration and Call to Action, which becomes the foundational document of the <A+> Alliance.
We found <A+> Alliance for Inclusive Algorithms with partner Ciudadania Inteligente, form a stellar Advisory Board and celebrate Ada Lovelace Day.  A+ is fficially launched at the Internet Governance Forum, held that year in Berlin, with the support of GIZ Fair Forward.
2020
On our next to last stop before the lockdown, we travel to Abu Dhabi for the World Urban Forum 10 (WUF10)  to moderate the half-day Women's Roundtable, curated with UN Habitat and its group of experts that are exploring notions of gender, sustainability, technology and inclusion.
Our second <AI & Gender> Workshop is held at EPFL with OHCHR, EPFL Digital Humanities Lab and EPFL Equalities Office.
F<a+i>r feminist AI Research Network exploratory work begins online with the support of IDRC  + Gender@Work. We create and curate the network  and commission White Papers  and their publication.
A+ Alliance publishes the  <A+> Global Directory with 90+ feminist AI leaders from varied disciplines across the majority world.
We are Selected as Leadership Generation Equality Forum: Action Coalition on Technology & Innovation for Gender Equality, and are also nominated for a WSIS (World Summit on the Information Society) Award for International and Regional Cooperation, and Become a Fast Company 2020 World Changing Idea in AI & Data.
2021
The G-app Gender Gap Application is built, with full time pro bono team  at Thoughtworks Social Impact, India.
The <A+> Alliance  is an Official Selection of the Paris Peace Forum, and takes a new co-lead: Tecnologico de Costa Rica.
We expand  our <A+> / f<a+i>r Hubs to LAC (Tecnologico de Monterrey), MENA (Jordan Open Source Association) and SEAsia (Chulalongkorn University). A 3 year IDRC grant for the initiative Incubating Feminist AI: from Paper to Prototype to Pilot helps to solidify the journey.
Months are spent in online meetings with the UN Women / Generation Equality Forum (GEF) Action Coalition for Technology & Innovation for Gender Equality (TIGE), leading to the creating of a five-year strategic blueprint.
We ideate The Tech We Need  and it becomes an  <A+> Alliance GEF Commitment 
< AI & Equality > Human Rights Toolbox is the subject of an EPFL Masters thesis. Workshops are delivered, a website built and collaboration continues OHCHR & EPFL
G-app Gender Gap Application beta-tests at the Inter-Parliamentary Union (IPU) Assemblies, the Commission on Science and Technology for Development (CSTD) at UNCTAD, and premieres at the Paris Peace Forum.
We are enacted as the Technical Author of the British Standards Institution's  Inclusive Data Standards.
2022
<A+> Alliance holds events socialising the idea of Feminist AI at MozFest, CSW, RightsCon, International Association of Feminist Economists,  and IGF Day Zero. 
F<a+i>r's first papers are chosen as prototypes, and a second cohort of papers are selected. 
Within our work in the UN Women TIGE Action Coalition, we collaborated with IDEO on the creation of the Gender x Innovation Toolbox.
<AI & Equality> Human Rights Toolbox Workshops were delivered at Sorbonne Centre Artificial Intelligence, Cambridge University Gate Fellows, Tu/e Eindhoven 3 part series, and Women in Data Science Zurich.
We both  judge then Keynote   USAID's Gender-Equitable AI Challenge
Alongside Gender@Work and Ladysmith Collective, we form a NGO Gender and Inclusion Support Team to the IDRC/SIDA Artificial Intelligence for Development (AI4D) project across its 9 African AI labs and policy hubs. 
We are an Advisor to the Women7 (W7) policy dialogue under the German G7 presidency.
We moderate the Senior Female Leaders Network over the year  for the World Trade Organization  (WTO) with speakers UN High Commissioner for Human Rights Michelle Bachelet,  International Criminal Court Judge Sicorro Flores Liera, WTO Director General Ngozi Okonjo Iweala, and International Trade Center Executive Director Pamela Coke-Hamilton.
For GIZ, we supply subject matter expertise and consultancy to partners of their digital ecosystem on the gender digital divide and  trend technologies, as well as supply training.
Last modified: November 23, 2022