Curated by Women At The Table
Sharing the work of extraordinary African AI researchers and the AI4D research family with counterparts and the world, this series focuses on issues of critical importance as we struggle to create a more inclusive and equitable world with AI and emerging technologies.
Who: Researchers from Africa and the Artificial Intelligence for Development Africa – AI4D – family working on complementary questions and themes.
What: One hour sessions 1400-1500 UTC; 1600-1700 SAST
Where: Online / Zoom
When: Every month starting August 2023.
Traduction anglais – français – anglais pour toutes les sessions
Schedule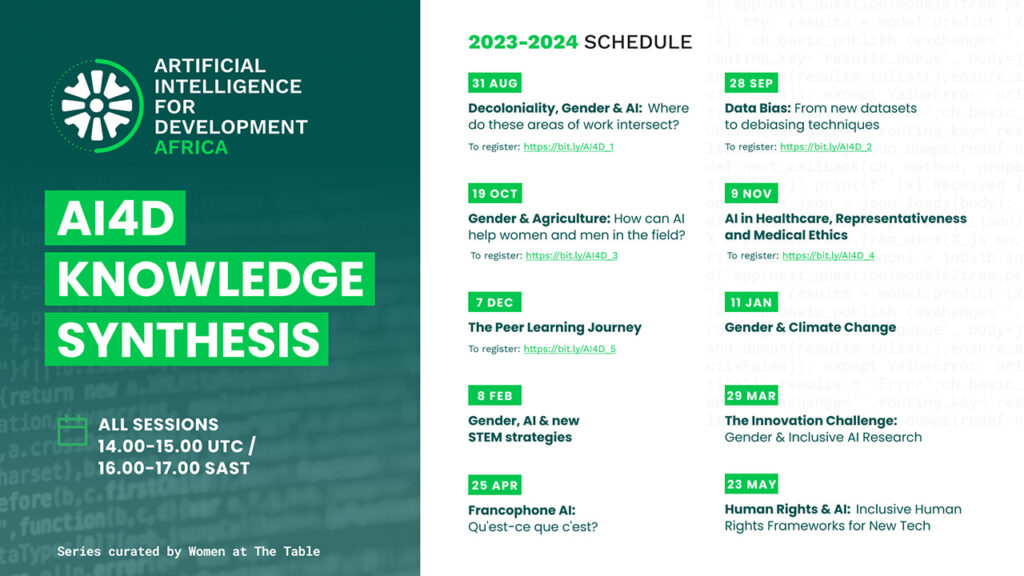 31 August – Decoloniality, Gender & AI:  Where do these areas of work intersect? 
To Register: https://bit.ly/AI4D_1
28 September – Data Bias: From new datasets to debiasing techniques
Moderator: Nyalleng Moorosi, Distributed Artificial Intelligence Research Institute (DAIR)
To Register: https://bit.ly/AI4D_2
19 October – Gender & Agriculture: What are the problems? Where are the gaps? How can AI help women and men in the field?
Moderator: Laure Tall, AI4D Gender Responsive AI Network (GRAIN); Initiative prospective agricole et rurale (IPAR)
To Register: https://bit.ly/AI4D_3
9 November – AI in Healthcare, Representativeness and Medical Ethics.
How do you ensure data sets are representative of the diversity of people, health conditions and context? What are the risks and mitigation strategies? Who is responsible? 
Moderator: Dr Elizabeth Oseku, HASH Lab, Infectious Diseases Institute, Makerere University
To Register: https://bit.ly/AI4D_4
7 December – The Peer Learning Journey
Moderator: Khanysa Mabyeka, Gender@Work
To Register: https://bit.ly/AI4D_5
11 January – Gender & Climate Change: Gender Justice / Climate Justice approaches.
What mitigation and adaptation strategies and innovations are needed?
8 February – Gender, AI, and new STEM strategies.
From distance learning to gamification, what is the newest research on including girls in STEM, including Teacher Ed and Lifelong Kindergarten / Scratch for low resource environments
29 March – The Innovation Challenge.
The Gender and Inclusive AI Research and Innovation Challenge provides competitive funding for cutting edge, gender-responsive and inclusive research that expands new knowledge relating to gender, diversity,  inclusion, and Artificial Intelligence in the African context. 
25 April – Francophone AI:   Qu'est-ce que c'est?
23 May – Human Rights & AI: Inclusive Human Rights Frameworks for New Technologies
How can Human Rights Frameworks be the starting point for the creation of new tech & innovation? What questions need to be asked and answered to harness the astounding capabilities of AI with its promises of dystopia or utopia? Can Human Rights Frameworks bring us to some middle ground?
Last modified: August 24, 2023