Launched at the sidelines of the 77th UN General Assembly,
  co-hosted by the Government of Canada

Tackling challenges of AI:
The Collective Impact Coalition (CIC) for Digital Inclusion
The World Benchmarking Alliance (WBA) launched the Collective Impact Coalitions (CICs) in 2021 to provide a space for Allies and stakeholders to take forward cross-sector, collaborative action based on data and evidence provided by WBA benchmarks.
These CICs are multi-stakeholder and timebound, bringing together diverse actors from large institutional investors to civil society, academia and business platforms to coordinate and collaborate on actions to drive positive changes on systematically important topics. These CICs are key to ensuring corporate accountability on sustainable development.
From 2022 to 2023, the Collective Impact Coalition (CIC) for Digital Inclusion will focus on driving measurable progress on corporate commitment to ethical AI principles, especially among the 130 digital technology companies who were found to be lacking such a commitment. In doing so, the Coalition encourages a positive change in industry business practices, enhancing business responsibility for an inclusive and trustworthy digital transformation.
Investor participants in the Digital CIC have already kicked off a collaborative engagement to drive adoption of ethical AI principles among the companies in their portfolio, see here the Investor Statement on Ethical AI. There will be more CIC actions happening throughout the year, including holding awareness creation events, online campaigns among others.
The Event: Launch of the Digital CIC
This roundtable at the side-lines of the 77th session of the United Nations General Assembly (UNGA) aims to launch the Digital CIC and highlight multi-stakeholder approaches to digital inclusion and in particular, addressing ethics in AI development and application by the world's most influential digital technology companies.
Moderator
Christine Brueschke, Sustainable Investing Analyst, Fidelity International
Opening Remarks
Lourdes Montenegro, Lead Digital Sector Transformation, WBA
Keynote Speaker
Tara Denham, Director General for Human Rights, Freedoms and Inclusion at Global Affairs Canada
Lead Discussants
Caitlin Kraft-Buchman, CEO Women at the Table
Louise Piffaut, Head of ESG Equity Integration, Aviva Investors
'Gbenga Sesan, Executive Director, Paradigm Initiative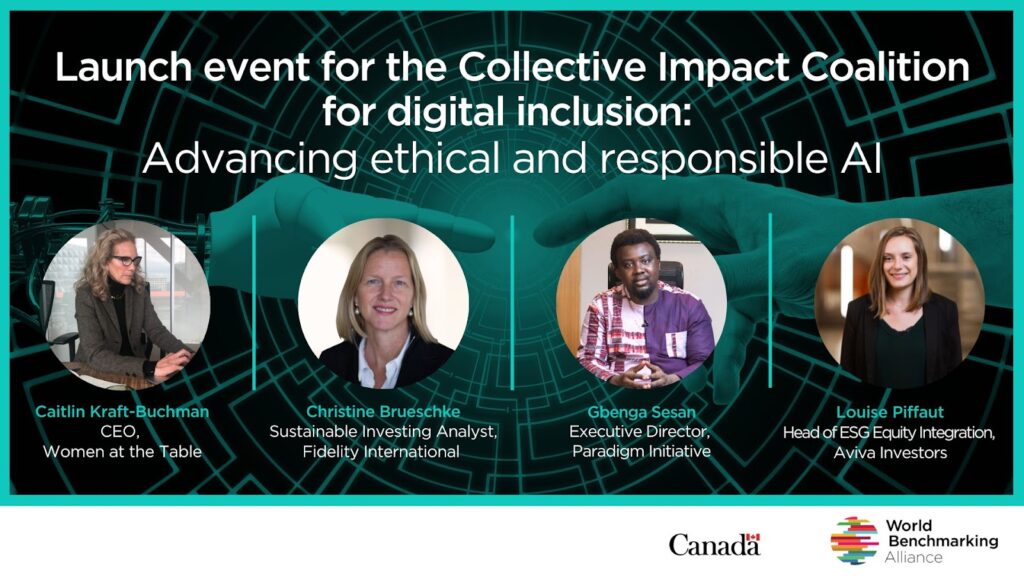 The World Benchmarking Alliance's (WBA) Digital Inclusion Benchmark tracks the performance of the world's most influential digital technology companies on four areas of digital inclusion: (1) enhancing universal and equitable access to digital technologies to ensure an inclusive digital society; (2) improving all levels of digital skills; (3) fostering trustworthy use; and (4) innovating openly and ethically. A significant finding of the latest benchmark is that only 20 out of 150 of these influential digital technology companies disclose that they have any commitment to ethical Artificial Intelligence (AI).
As civil society organizations, think tanks, members of academia, research and business consultancy groups, we have committed to working together through WBA's Collective Impact Coalition (CIC) for Digital Inclusion for an inclusive digital economy that benefits everyone in society. We believe responsible and ethical AI is critical to achieving digital inclusion that genuinely supports and upholds human rights, helps achieve the United Nations Sustainable Development Goals (SDGs) and advances an inclusive digital society.
AI is poised to support the transformation of Health, Finance, Media, Security and many other sectors. We must ensure a rights-based approach so that systems innovated with AI are responsible and ethical. If not, AI may exponentially scale the risk of harms by replicating bias and discrimination; invading privacy; denying individual rights; and having opaque, inexplicable and unsafe consequences. If principles of ethical AI are not well-implemented and woven into the life cycle of AI systems, society faces tremendous risks which may undo the positive steps made to achieve the 17 United Nations Sustainable Development Goals (SDGs).
Ethical AI as identified by the WBA's Digital Inclusion Benchmark is critical to digital inclusion and systems change. A commitment to actionalising ethical AI principles offers opportunities for AI-fitted systems to overcome sustainable development challenges, build trust with users, and reduce risks and harms to individuals, communities, companies, and societies.
We call on technology companies to commit to responsible development and application of AI, guided by ethics, respect for human rights and the principle of leaving no one behind. As a first step, we ask that companies disclose this commitment from their highest level of management.
Throughout the year, the Coalition will undertake collective engagements on this matter to drive change. We encourage other stakeholders to join us in signing this statement. https://www.worldbenchmarkingalliance.org/impact/non-investor-statement-on-ethical-ai/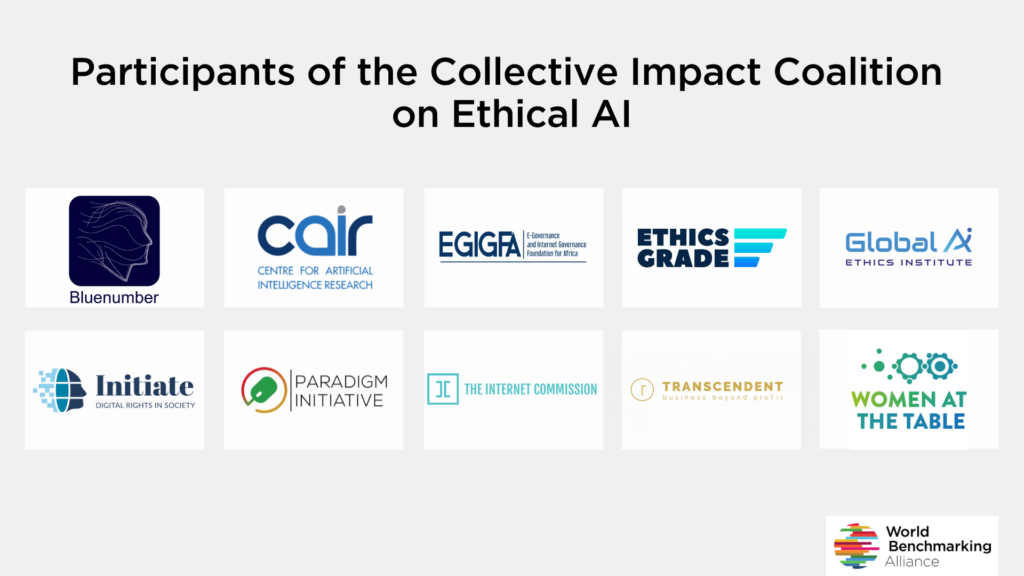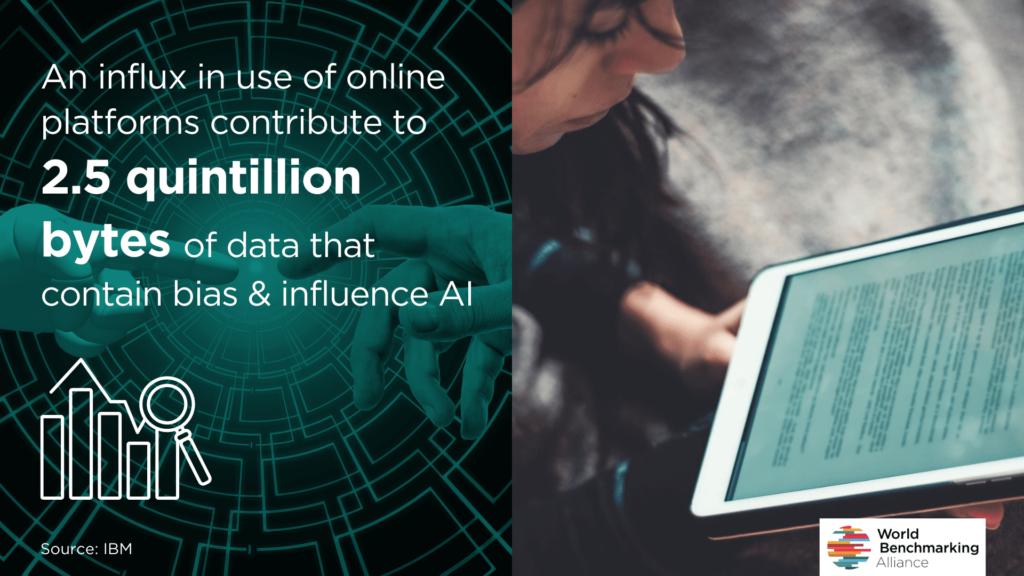 Last modified: October 6, 2022